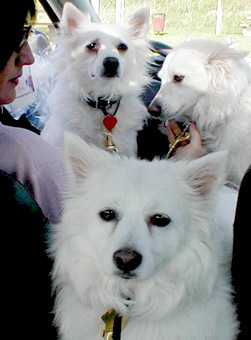 Toot and Nadia detect the high pitched sound of puppy barking!
When we reached Portland, the passengers announced our arrival, saving me the effort of determining which slum residence we were supposed to visit. I was greeted by the pups' owner, who ushered me into the backyard, which was gated off by a collapsible clothes drying rack. I surmised that these Eskies could not be the sharpest pencils in the box if they hadn't yet negotiated that obstacle.
I was pleased to see that the pups' sire was a beauty....bearing a strong resemblance to Nikita....and was extraordinarily friendly. The dam, on the other hand, was parked in hormonal hell, and sported a haunted, hysterical look.....sort of like Toot on crack. And, it seemed that the the pups were taking their cues from her.