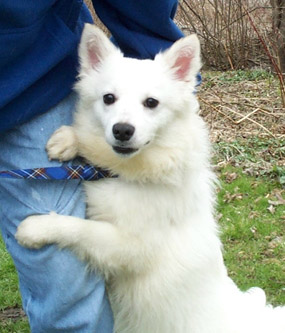 As soon as he met Diane, Romeo glued himself to her.
Then, Mike and Diane volunteered to foster two of the Eskies. Ah, I thought, four isn't so bad. And so, Mike and Diane rushed to the shelter to photograph the pups for our website and to pick up Timmy and Romeo.
In the meantime, I phoned Stevens-Swan to work out details, and I agreed to take the Utica Six after two weeks. That should have given me enough time to finalize some adoptions and drum up some foster homes. But, alas, apparently "two weeks" translates to "four days" in Uticaese, and we were repeatedly asked to hurry it up. I figured that since the dogs had been there for six months, two weeks would not be an unreasonable request.