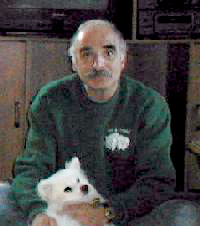 In Memorium: Chuck Bruno
We are saddened by the recent news that our old pal, Chuck Bruno, recently passed away in his adopted state of Florida. We would be remiss if we did not acknowledge Chuck's incredible contribution to American Eskimo Dog Rescue. Chuck initiated and maintained the Massachusetts Chapter of Heart Bandits American Eskimo Dog Rescue in the late 1990's, and personally rescued, fostered and placed hundreds of unwanted Eskies both in Massachusetts, and in Florida, where he moved a few years ago. His commitment was inspiring. He was our friend, and mentor, and was in many ways responsible for the inception of Eskies Online.
We owe Chuck a debt of gratitude and hope that he is giving St. Peter hell, by riding his Harley back and forth over the Rainbow Bridge.