The Adventures of MILES the Swedish Lapphund
By Natalie F. Harris
One summer morning in Connecticut, in 1999, a woman who was driving to work noticed what looked like a black sled dog sitting by the side of the road, watching the cars go by. Hours later when she drove by the same spot, the dog was still sitting there. The woman pulled over her car and opened her door. The black dog jumped in, and that's how Miles the Swedish Lapphund came to be rescued. The black dog had no identification, and an owner for him couldn't be found, so he was eventually transported to the Boston, Massachusetts chapter of Heart Bandits American Eskimo Dog Rescue to be vet checked and put up for adoption. After a little research and a little help from some knowledgeable people, it was determined that the black sled dog was quite possibly a Swedish Lapphund, a breed not recognized by any kennel clubs in the United States. He fit the breed description to a tee, plus he seemed to not understand English commands, but did respond to Swedish! A breeder located in Sweden determined that the dog was probably at least five years old due to some graying on his muzzle. She also verified that occasionally Swedish Lapphunds did make their way to the United States when their owners moved or relocated there from Sweden. At any rate, the black dog was safe and was made available for adoption through Heart Bandits pending a vet check and neutering. The dog was nameless except for the occasional tag of "Bear" due to his appearance, or "Miles" due to the distance he'd traveled. The black dog, now considered a Swedish Lapphund, was a very gentle, very sweet animal who was very friendly toward adults, children, and other dogs. He was believed to have been abused due to the fact that he was slightly afraid of men and was slightly submissive despite his outgoing character. He'd obviously been through a lot, but his temperament remained sweet and docile despite any hardships he'd endured. But his adventures didn't stop there. After being at Heart Bandits for only a few days, the Swedish Lapphund escaped. He managed to slip his collar and run away, getting himself lost in the city of Boston. For the next few days, rescue people and Boston Animal Control frantically looked for the dog, hoping to find him before something happened to him.
One person even ended up in the hospital due to the stress from trying to track the dog. Finally, Animal Control found the Swedish Lapphund safe and sound, and took him back to Heart Bandits.
---
During all this, a woman in Indianapolis, Indiana, was monitoring her email closely, following the loss and recapture of the Swedish Lapphund. She loved the Spitz/Northern dog breeds and had been researching the Shiba Inu breed for a possible companion for her young American Eskimo Dog. The excitement surrounding the lost Swedish Lapphund captured her attention, and she was intrigued by the dog. Purebred Swedish Lapphund or not, he was definitely a beautiful, rare black Spitz-type dog, and that was good enough for her. She was greatly relieved when the Lapphund was found, and she decided to try to adopt him. Meanwhile, the Swedish Lapphund, now called Houdini, was safe at HeartBandits again but showed a real aptitude for escape artistry thereafter. He escaped from his handler several more times despite efforts taken to keep him in check. On at least a couple of occasions, he slipped out of his fence and merely stood on the other side, looking at his handler as if to say, "Nya, nya, nyaaaaaa!"
---
The Swedish Lapphund's chances of escape were greatly reduced, however, when it came time to have him neutered. He stayed with the vet and with a groomer for a few days while the woman in Indianapolis convinced her husband that the good-natured dog would be a good match for their American Eskimo Dog. The couple expressed their interest in him and began the first steps toward adoption. The Swedish Lapphund also was finally officially named Miles, in honor of his travels. Miles recovered from his surgery successfully, and HeartBandits began working on a rescue "railroad" route whereby volunteer drivers would shuttle Miles across the country to his new home in Indianapolis. Miles' cross-country trip got underway one Saturday morning, but unfortunately he only made it as far as Philadelphia. No drivers were available to take him the distance across Pennsylvania, so he stayed with an American Eskimo Dog breeder while everyone worked to figure out how to get him to Indianapolis. It was determined that the fastest way to get Miles to his new home was to FLY him there. So, an airline was contacted, reservations were made, and the American Eskimo Dog breeder made the preparations to ship Miles to his new family.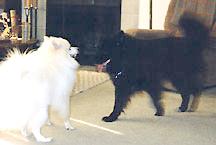 Miles' new family, in the meantime, was scared to death. They had never had a dog transported by plane before and were contemplating all of the horrible things that could go wrong. They needn't have worried. Miles arrived in Indianapolis ahead of schedule and was resting comfortably in the airline's cargo building when his new family arrived to pick him up. Evidently, flying in a plane was not a big deal to Miles the Swedish Lapphund.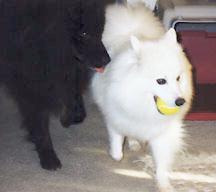 ---
At any rate, Miles the Swedish Lapphund is finally home. So far, he gets along great with his new family and with his new little brother, Max the American Eskimo Dog. His talent for escape artistry has also been greatly reduced due to the fact that he lives in a townhouse now and always has a human with him when he goes outside. He gets plenty to eat, has a new dog buddy to play with, has two humans to go to for pats on the head and reassurance, and pretty soon will be in training for the Hurdlin' Hoosiers Flyball team. Miles the Swedish Lapphund has traveled farther than most people have, but he's home now. And hopefully, he won't need to travel such distances again anytime soon, if ever.
The story of Miles the Swedish Lapphund is taken from his own webpage, which he shares with Max, the American Eskimo. You can visit Miles and Max at the SPITZ FUN PAGE.